We had a baby shower for my sister in law today. She had her baby a month ago and our church wanted to have a shower for her, so today was the big day. Since she had the baby already we did a Meet Our Lil Pumpkin theme. It was so cute and the decorations and stuff turned out better than I thought it could.
I made the cake. It was actually pretty easy and it turned out really cute.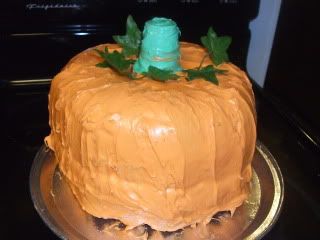 Its made from two bundt cakes put together and an ice cream cone in the center for the stem. I used a chocolate cake on the bottom and a carrot cake on the top. It was YUMMY!