Today we are trying to keep the boys entertained a little more. They are feeling better and wanting to get down and run, which we cannot let them do because they have IV's in. So we have been confining them to the highchairs and the cribs and watching LOTS of Barney, Blues Clues, and Dora the Explorer.
This is breakfast today, bless their hearts they both use their right hands more than their left for eating and they don't have the option.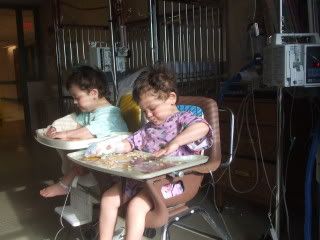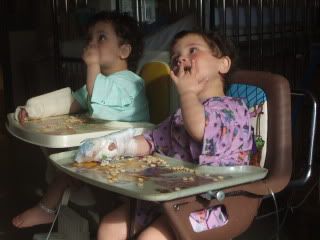 And drinking out of sippy cups takes a little more thought and motivation: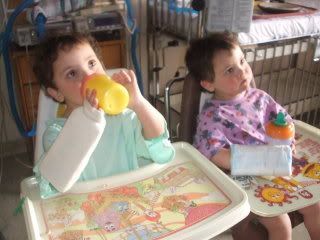 Here is Isaac being funny with the crib today. I made sure housekeeping cleaned the cribs extra good since they're putting their mouths all over it....YUCK!!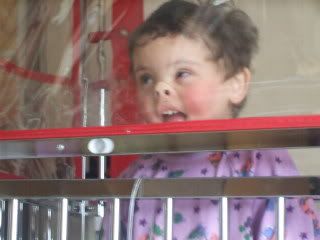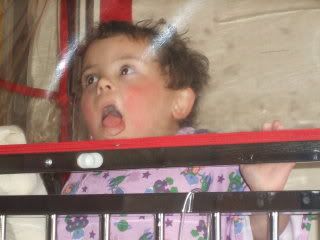 And both boys right after having blood work and ready for a nap:
Isaac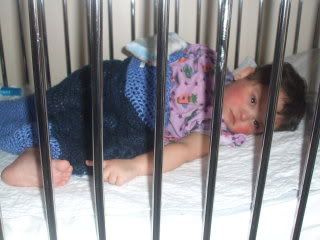 Caleb
So we're still here, they are doing better but not quite enough to come home yet, we're hopeful for tomorrow and at the latest Sunday. They are eating and drinking better and their oxygen levels are right at 89 - 90 and they need to be 92 to come home.
Tonight Tristin is going with a friend of her's to a church youth group trip to a lock in at a movie theater, how fun is that!!! All the popcorn and soda she wants and movies all night long.