We finally got around to getting some of these great frames for the boys. This is a wonderful line of glasses made especially for little faces of children with Down Syndrome. You wouldn't even believe how hard it is to find something to fit them. They have a wide bridge on their nose and most glasses just really dont fit. We have been through four pair of glasses already and none fit as well as these ones do.
Maria is the Founder/Owner of
Specs4Us
and she was really great to deal with. There wasn't an optician in my area that carried these frames so she mailed me samples to try on and even a return envelope with postage to send back the ones we did not want. She went out of her way to help and I so appreciate everything she did.
Here's our BEFORE shot of our other glasses that didn't work so well, but still looked cute on:
Here are a few photos of the boys I got today. It was a beautiful evening and we went out for a walk around the farm and got these cute pictures: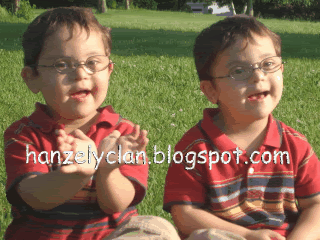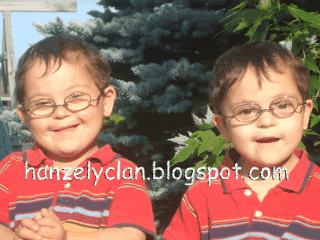 I know, I know AWWWWWWWWWWWWWWWWWWW