Caleb and Isaac are into Yo Gabba Gabba this year. Non stop about four or five shows per day they watch and they even made up a sign for the show. They wave their hands in the air above their head like the green monster Brobee does. Its so darned cute!!! Anyway we went to a Christmas party with the kids on Sunday put on by a fantastic organization here called
Caring and Sharing for Kids
. This organization has helped us out so much with the many trips to Pittsburgh we have had over the past four years. They are currently serving 215 area children and all of this began with the dream of one woman named Sally. Sally and her husband have been such a blessing to so many and I pray that God blesses her as much as she has us..
Here are photos from the party. We submitted our letters to Santa in November and he brought all their presents to the party. We say lots of smiling faces that day!!
Isaac got Brobee
Caleb got Plex:
Camille was excited to get the Apples to Apples Junior game: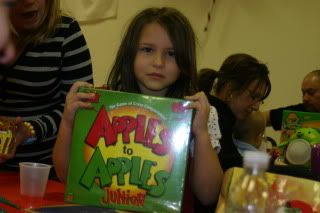 Elijah and his webkinz:
And Tristin was pleased with her gift certificate to Wal-Mart!!