Our kiddos are growing up so fast. My camera has been on the fritz for the past several months and I finally got a different one, so I've been bombarding my children with taking their photos so I can update for family and friends. We have alot of family that will not be able to come home this year for Christmas so I wanted to share how big the older three are getting.
Tristin~
She is in the 6th Grade and attends the same Middle School grandma teaches at. This has been very beneficial to her and I when the need for a ride arises. She likes the school, has made new friends, and she likes the challenge it presents to her, but she DOES NOT like getting up at 6am and getting on the bus at 7am. She takes after her mama :) She is in her second year of being a Cadet Girl Scout and is working hard on her Silver Award for this year.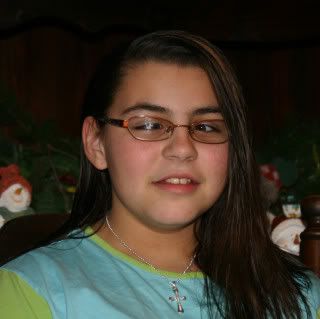 Camille~
She is in Second Grade and is excited to learn cursive writing and math. She likes to do subtraction even though it gives her trouble sometimes, she keeps at it. She is in brownies and has a really good time with her troop. Camille has made great progress this year and we enjoy watching her develop a strong personality...sometimes good, sometimes bad. She is the most caring kid, she LOVES her little cousins and is a great caregiver to Kylie, Tyler, and Alex when we visit with them.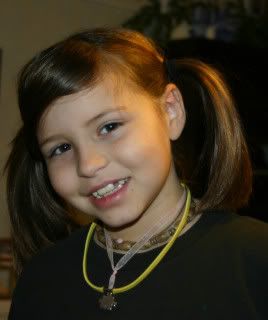 Elijah~
He's our little wild man. He loves his new black pug, Rosco and spends lots of time chasing him around and getting him all excited. He has taught Rosco to chase his tail and it about drives me up a wall. Elijah is in first grade and doing absolutely fabulous. He is an amazing reader and I see good things for his academic future. He is a Tiger Scout and learning how to get along as a pack. He wanted to badly to sing the song "All I want for Christmas is my two front teeth", he worked hard at it and his wish came true... no front teeth :)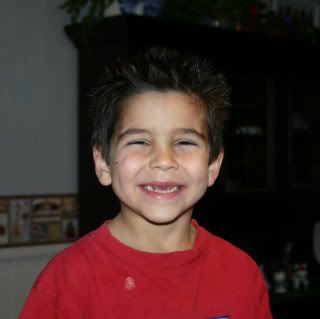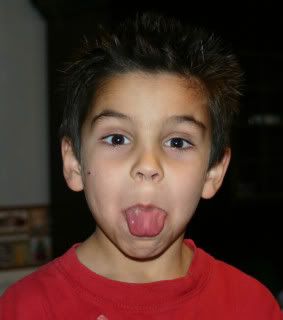 Oh and we have a new hunter in the family. Tom has taken Tristin under his wing and is mentoring her in hunting this year. She passed her Hunters Safety Course and I'm hopeful that she'll have a successful hunt in the spring.