Have you ever had a toy that has needed a battery replaced and you just keep on forgetting about it and forgetting about it? That is what happened to a Leap Basketball Hoop game the boys loved playing with. It has been probably six months since it has been played with and mainly that was because of my neglect to replace the batteries. When you have 25 toys needing new batteries in your house you tend to only concentrate on those that get most of the use.
So....I stocked up on batteries for Christmas. I saw the basketball game sitting there and thought Hey, lets get this hooked up for the boys again. Well, let me tell you. They played together in the playroom for OVER AN HOUR together. They were laughing, taking turns, clapping and cheering for each other. It literally brought a tear to mama's eyes. It was so darned cute and I was tickled with the photos I captured of the day.
Caleb especially loves putting the balls in the basket. There are settings you can choose, one counts to 10, another says one letter of the alphabet with each basket, and yet another function spells out simple words like CAT DOG PIG... They love the alphabet and numbers the most.
HE SHOOTS!!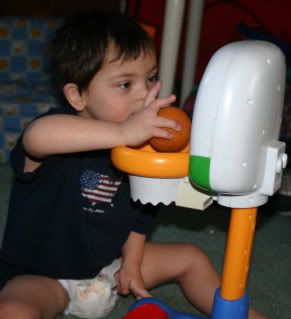 HE SCORES!!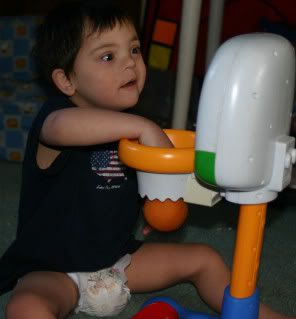 HE CHEERS!!
BROTHER CHEERS FOR HIM!!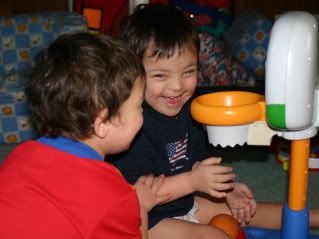 ISAAC TAKES A TURN:
Now that was a great basketball game in my book!!