We were asked back in September if we would allow Isaac to be a model in our local American Red Cross winter campaign. Of course we thought that was such an honor to be asked. Not to mention we love to show off our beautiful children, even under such circumstances. When the initial contact took place I assumed they would just photograph Isaac and use his beautiful face all over. Then they called to set everything up and said we all had to wear matching pants. "We All??" Yes Mrs. Hanzely, you will need to tell Isaac's story for him since he is unable to right now.. Oh Great, now I have to show off my mug....LOL
Off the subject, but this little episode motivated me to lose the weight I've been losing over the past three months. To bad I didn't do it before the photo shoot :)
I went and donated blood today and got to talk to Beth. She is the person who made the first phone call asking if I would allow Isaac to be their model. It was so nice to see her and for her to see the twins and how well they are doing. They were the hit of the 45 minutes we were there. Accompanied by their TSS, they sat very nicely and watched their portable DVD player and just glanced up every once in awhile to make sure mommy was still there in the same room. I couldn't have been more proud of them today. They really are good boys!!
I was glad to see Beth, because I received a DVD of all the photos, tv commercial and webcast they filmed and wanted to know if I could share this on my blog. She made a phone call... and Here It Is....
TV Commercial: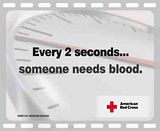 Webcast: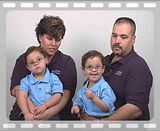 I will get some of the photos up later. There were some really cute ones!