Today after months of planning Isaac got his wish from Make-A-Wish. I have had people ask me, How did I choose a Wish for Isaac when he cannot talk to tell me what he wanted. Well, if you were to see my child's face light up when I take him to a playground to swing or go down a slide, you would not need words to describe what he would love to have in his own backyard, available to use whenever he wanted to.
My total confession is that we already had a playset, but it was 11 years old, well played with and not accessible for the boys to play on without help.. SO we now have a beautiful play structure in our back yard that the boys can play on and grow into and continue to play with and on for many many years to come. My 12 year old daughter Tristin loves it, so I should have at least another 10 or 12 years of play for the twins.
Here's how the day went today:
Workers arrived at 9:30am:
After they got going and the twins realized they were bringing something for them to play on later they both became interested in watching out the window: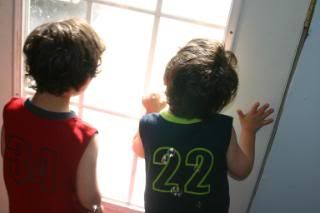 It was so HOT outside today about 85 degrees and very high humidity, the men outside always looked so hot and we felt guilty sitting in my house with central air going full blast. (we did offer ice water and Gatorade often)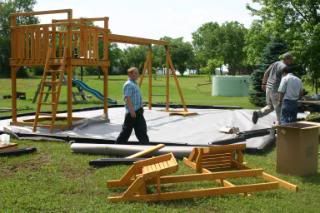 Elijah was the most excited of all, I don't think he left those men's side for more than a minute at a time.
While we waited we enjoyed cake and ice cream and balloons provided by Make A Wish, who says you can't eat cake and ice cream for lunch?? We sure did, and it was GOOD!!!: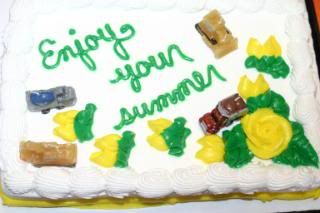 Isaac is in red today:
Caleb is blue:
Caleb was a little excited about getting ice cream and Isaac looked like he was pushing it away saying No Thank You:
Here comes the Mulch: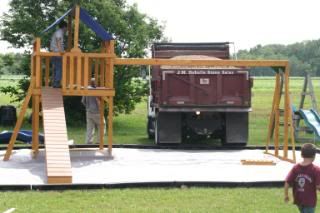 I took Isaac outside to watch the truck dump the mulch and he freaked out, it was to much for him.. to noisy I think:
So we came back in and finished up his ice cream: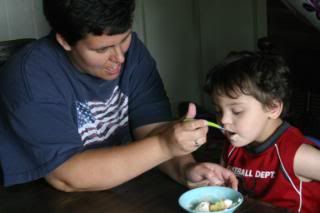 Here's the finished product being enjoyed by all five children, and there's plenty of room for more children :)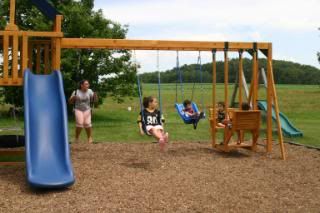 Mom and the Boys:
Our Wish Coordinator Toni Houston: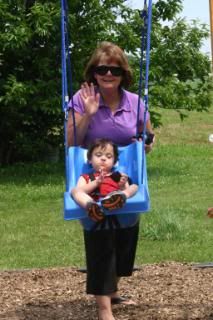 Camille and Elijah on the tire swing: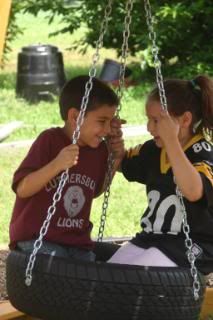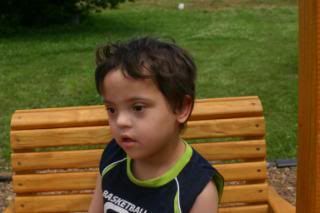 Anyone wanna come play???